MGS Presents Kola Owolabi, organ
Organist Kola Owolabi is an active solo recitalist and has performed numerous concerts as organist and harpsichordist with the Grammy-nominated vocal ensemble Seraphic Fire and Firebird Chamber Orchestra. Dr. Owolabi is also a published composer and has received commissions from the Royal Canadian College of Organists and the Catholic Archdiocese of Toronto. Dr. Owolabi serves as Professor of Organ at the University of Notre Dame.
To watch Kola's interview with MGS Executive Director Rebecca Willie, click here.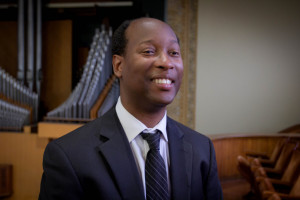 Kola Owolabi, Organ
Friday, February 24, 2023 - 7:30 pm
Christ United Methodist Church
Live Audience Tickets
---
Program
Toccata prima - (Apparatus musico-organisticus, 1690)

Georg Muffat

(1653-1704)
Three Chorale Preludes

J.S. Bach

(1685-1750)

Trio super Herr Jesu Christ, dich zu uns wend, BWV 655

An Wasserflüssen Babylon, BWV 653

Christ, unser Herr, zum Jordan kam, BWV 684
Concerto in F Major, Opus 6, No. 2

Arcangelo Corelli

(1653-1713)

Kola Owolabi

I. Vivace – Allegro – Adagio – Vivace – Allegro – Largo andante

II. Allegro

III. Grave – Andante largo

IV. Allegro
INTERMISSION
Little David, Play on Your Harp

Joe Utterback

(b. 1944)
Te Deum Laudamus

David Hurd

(b. 1950)

III. Recitative and Hymn: The Humbling

IV. Introduction, Fugue and Chaconne: The Opening of Heaven
Symphony No. 3 in F# minor, Opus 28

Louis Vierne

(1870-1937)

III. Intermezzo

V. Final
Program subject to change at the discretion of the artist(s).
---
This concert is made possible by the generous support of Carolyn Cotton.
Concert support is also provided, in part, by funding from Creative Greensboro, the city's office for arts & culture.