MGS Presents Maharajah Flamenco Trio
The Maharajah Flamenco Trio is passionate about sharing with audiences the experience of flamenco and the intersections of culture, music, well-being, and creativity. Consisting of guitarist Silviu Ciulei, bassist David Cobb, and percussionist Ramin Yazdanpanah, the trio delivers a moving and dynamic expression of Flamenco Nuevo by blending traditional Spanish rhythms with jazz, classical, and world music.
Check out this Tiny Desk performance of Dariya.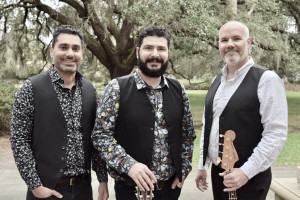 Maharajah, Flamenco Trio
Friday, February 3, 2023 - 6:30 pm
GreenHill Arts Gallery
Live Audience Tickets
Tickets are free!
---
This concert is generously sponsored in part by the Piedmont Classic Guitar Society. Education programming supported by Guilford College.