MGS Presents Helios Piano Trio
Internationally acclaimed Helios Piano Trio is comprised of artist faculty from the University of Wyoming. Beth Vanderborgh, John Fadial, and Chi-Chen Wu combine to produce probing and passionate interpretations of the great piano trio repertoire. Beth Vanderborgh and John Fadial may also be known to Greensboro audiences as faculty at EMF. The trio returns to MGS to perform on the Ingram Memorial Concert.
Check out this video of Helios performing Ravel's Piano Trio.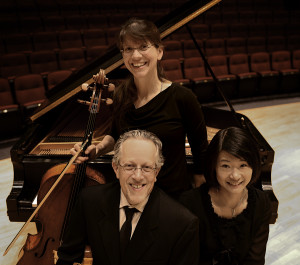 Helios, Piano Trio
Friday, March 17, 2023 - 7:30 pm
Christ United Methodist Church
Live Audience Tickets
---
This concert is made possible by the generous support of Christopher C. and Laura B. Tew.