MGS Presents James Giles, piano
Music for a Great Space opens the Season of Inspiration with "riveting, intelligent" pianist James Giles. A North Carolina native, Giles currently serves as professor at Northwestern University. Giles is equally at home in the standard repertoire as in the music of our time and has commissioned and premiered works by Ned Rorem and Earl Wild among many others.
Check out this recent performance of Giles performing Brahms Waltzes and Schubert's Sonata in B-flat.
See below for program selections.
Masks are encouraged for in-person attendees of this event.
To join the live-stream, log on to the website (top right corner) or create and verify a new account. At 12:30pm on Oct 1, return to this page and the live-stream button will appear. The waiting room opens at 12:30 and the concert begins at 1pm.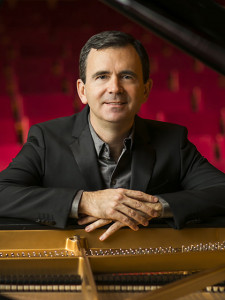 James Giles, piano
Saturday, October 1, 2022 - 1:00 pm
Christ United Methodist Church
** Online live streaming available! **
Live Audience Tickets
---
Program
Franz Liszt:
Ave Maria
Ave Maria "The Bells of Rome"
Ballade No. 2 in B Minor
Lowell Liebermann:
Sonata No. 3 Op. 82
Written for and premiered by James Giles
Robert Schumann:
Album for the Young Op. 68
21. Lento
26. Andante
30. Lento
Ludwig Van Beethoven:
Sonata quasi una fantasia Op. 27 No. 2
Adagio sostenuto Allegretto
Presto agitato
Program subject to change at the discretion of the artist(s).
---
This concert is made possible by the generous support of Pennybyrn.
Education residencey made possible by Dr. Nancy Walker.