MGS Presents Telegraph String Quartet
The Telegraph Quartet (Eric Chin and Joseph Maile, violins; Pei-Ling Lin, viola; Jeremiah Shaw, cello) formed in 2013 with an equal passion for standard and contemporary chamber music repertoire. Described by the San Francisco Chronicle as "...an incredibly valuable addition to the cultural landscape" and "powerfully adept... with a combination of brilliance and subtlety," the Telegraph Quartet was awarded the prestigious 2016 Walter W. Naumburg Chamber Music Award and the Grand Prize at the 2014 Fischoff Chamber Music Competition.
The Quartet has performed in New York City's Carnegie Hall and Lincoln Center, San Francisco's Herbst Theatre, the San Francisco Conservatory of Music's Chamber Masters Series, and at festivals including the Chautauqua Institute, Kneisel Hall Chamber Music Festival, and the Emilia Romagna Festival. They have collaborated with pianists Leon Fleisher and Simone Dinnerstein; cellists Norman Fischer and Bonnie Hampton; violinist Ian Swensen; composer-vocalist Theo Bleckmann; and the Henschel Quartett.
A fervent champion of 20th- and 21st-century repertoire, the Telegraph Quartet has premiered works by John Harbison, Robert Sirota, and Richard Festinger. In 2018 the Quartet released its debut album, Into the Light, featuring works by Anton Webern, Benjamin Britten, and Leon Kirchner on the Centaur label.
Based in the San Francisco Bay Area, the Quartet is currently on the chamber music faculty at the San Francisco Conservatory of Music as the Quartet-in-Residence and has given master classes at the SFCM Collegiate and Pre-College Divisions, through the Morrison Artist Series at San Francisco State University, and abroad at the Taipei National University of the Arts, National Taiwan Normal University, and in San Miguel de Allende, Mexico. Telegraph has also served as artists-in-residence at the Interlochen Adult Chamber Music Camp, SoCal Chamber Music Workshop, and Crowden Music Center Chamber Music Workshop. In November 2020, the Telegraph Quartet launched ChamberFEAST!, a chamber music workshop in Taiwan.
Telegraph String Quartet is represented by Jensen Artists www.jensenartists.com
See below for program information.
With the uncertainty of the pandemic, precautions will be taken to keep our audiences and artists safe. Masks will be required, as per the governor's mandate, social distanced seating will be in effect, and proof of vaccination or a negative Covid test within 72 hours of the event will be required as well.
Any individual ticket purchaser deciding to remain home due to potential contact or illness will be given the choice of a refund or credit to another event.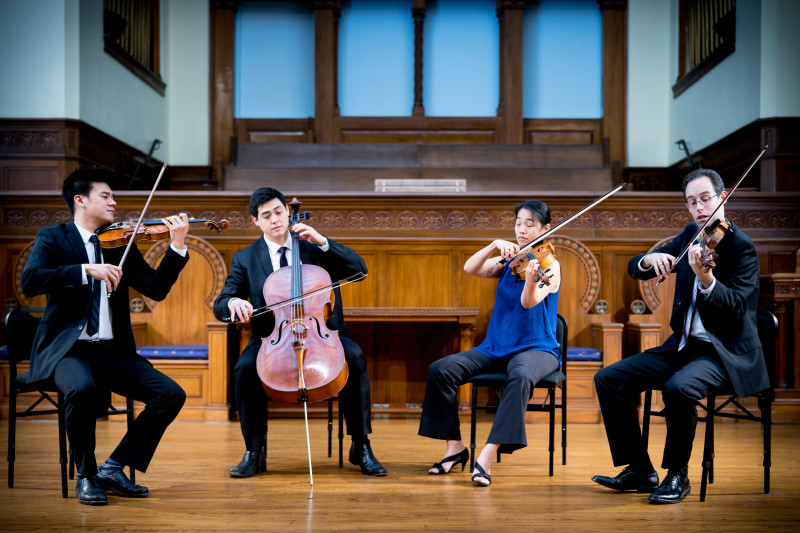 Telegraph, String Quartet
Friday, November 19, 2021 - 7:30 pm
Christ United Methodist Church
Live Audience Tickets
---
Program
String Quartet No. 4

Grażyna Bacewicz

1909-1969

Andante - Allegro molto
Andante
Allegro giocoso
String Quartet No. 3. in D Major Op. 34

Erich Korngold

1897-1957

Allegro moderato
Scherzo - Allegro molto
Sostenuto "Like a Folk Tune"
Finale - Allegro con fuoco
String Quartet No. 2 in C Major, Op. 36

Benjamin Britten

1913-1976

Allegro calmo senza rigore
Vivace
Chacony - Sostenuto
Program notes provided by the artists:
The works on this program highlight how three very different 20th-century composers were affected by the cataclysmic events of World War II.
Grażyna Bacewicz composed her fourth quartet several years after the end of World War II, during which time she lived through the Nazi occupation of Warsaw. In this work, Bacewicz's compositional style develops to show both the cautious hope for a better future, perhaps tinged with the doubt and darkness of the years before.
While Erich Korngold did not experience the horrors of the War firsthand, his life was still dramatically changed by it: as a Jewish composer, his home was taken and his family was forced to flee to the United States. Korngold refused to write concert music, writing only film scores, until Hitler was defeated. When Hitler was overthrown, Korngold celebrated with the creation of his first post-War concert work, String Quartet No. 3, an odyssey spanning the gamut between the despair of that tyranny to the celebration of victory over it.
Benjamin Britten's journey would take him in the opposite direction: a staunch pacifist, he was on a concert tour of the U.S. when the War came to the shores of England. His sojourn would last several years, but he finally felt compelled to return to his homeland in 1942 to do his part for the War effort. During the summer of 1945 when he composed his String Quartet No. 2, Britten pleaded with the American violinist Yehudi Menuhin to allow him to tour liberated Europe with him, performing for the victims of the Holocaust in the newly discovered concentration camps. Britten's String Quartet No. 2 was written partly in response to these experiences. While all three works came into being during post-War peacetime, each of the composers' experiences during the War undeniably affected their artistic approach and outlook and the consequences of those experiences shine through in this program.
Program subject to change at the discretion of the artist(s).
---
MGS is grateful to Dr. Nancy Walker for her support of this concert.