MGS Presents Aaron Diehl, piano
MGS presents classical and jazz pianist Aaron Diehl. With equal training and experience in the classical and jazz worlds, Aaron will present a first half of Bach, Hanna, Joplin, and Dett, and will then be joined by local jazz talent Chad Eby, Steve Haines, and Thomas Taylor for a second half of jazz.
With the uncertainty of the pandemic, precautions will be taken to keep our audiences and artists safe. Masks will be required, as per the governor's mandate, social distanced seating will be in effect, and proof of vaccination or a negative Covid test within 72 hours of the event will be required as well.
Any individual ticket purchaser deciding to remain home due to potential contact or illness will be given the choice of a refund or credit to another event.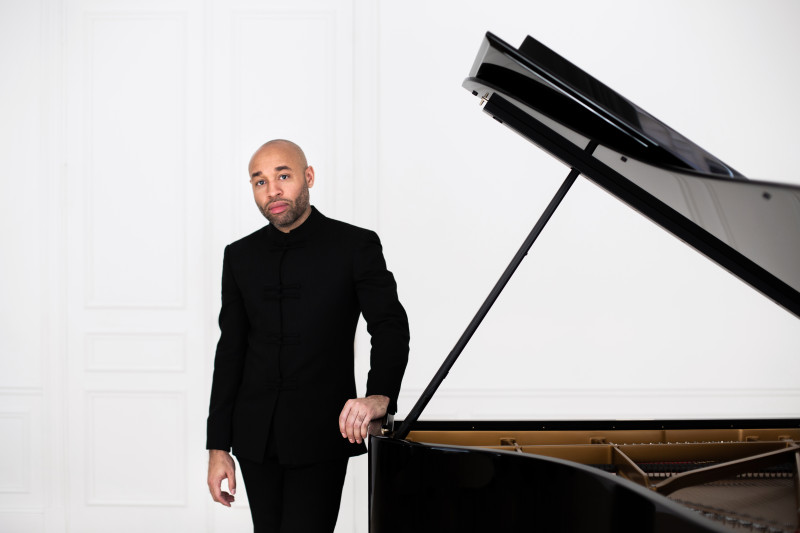 Aaron Diehl, piano
Friday, October 22, 2021 - 7:30 pm
Christ United Methodist Church
Live Audience Tickets
---
Program
Prelude and Fugue in G Major, BWV 860

J.S. Bach

1685-1750
Selections by:

Roland Hanna

1932-2002

Prelude No. 1 in B flat Major
Prelude No. 2 in E Major
Prelude No. 3 in B Minor
Century Rag
Selections by:

Scott Joplin

1867/68-1917

Easy Winners
Solace (A Mexican Serenade)
Juba Dance

R. Nathaniel Dett

1882-1943
INTERMISSION
Flux Capacitor

Aaron Diehl

b. 1985
Isfahan

Duke Ellington

1899-1974
Alter Ego

James Williams

1951-1982
Peggy's Blue Skylight

Charles Mingus

1922-1979
Clockwise

Cedar Walton

1934-2013
Deception

Miles Davis

1926-1991
Centerpiece

Harry "Sweets" Edison

1915-1999
Program subject to change at the discretion of the artist(s).