MGS Presents Organ Festival 2021 #3
MGS closes the 30th Anniversary season with a celebration that goes back to our roots! Formed as an organ series, MGS has always featured the most exciting organists of our day, and will finish off the season with a 3 week Organ Festival featuring multiple performers and instruments.
The performances will take place April 9, 16, and 23rd at 7:30pm.
Organists and Organs to be featured on April 23:
Marya Fancey- Andover Op. 111 at the UNCG Organ Hall
John Alexander - Létourneau Op. 73 at First Presbyterian Church
These concerts are sponsored by the generosity of Christopher C. and Laura B. Tew and by the Ingram Memorial Fund.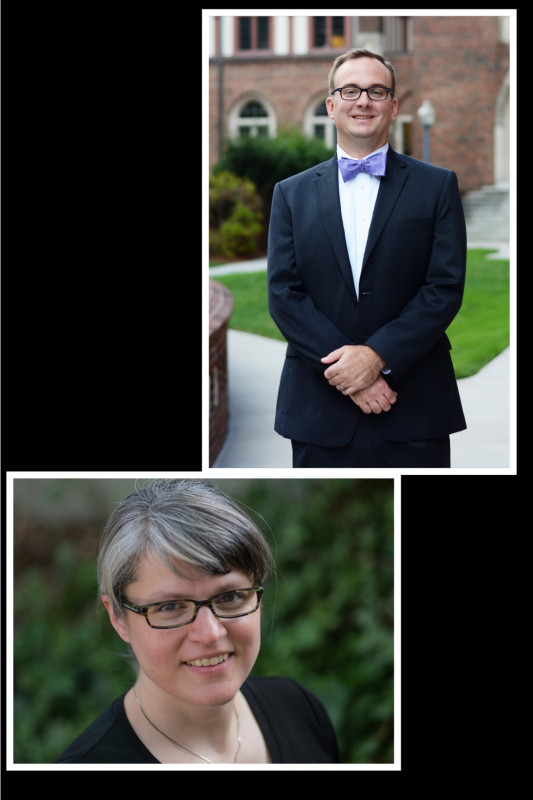 ---
Program
Marya Fancey Program
Ave Verum Corpus

Caterina Assandra

c. 1590–after 1618

transcribed from the Pelplin organ tablature by Marya Fancey
Suite No. 1 for Organ

Florence Price

1887–1953

I. Fantasy
II. Fughetta
III. Air
IV. Tocatto
John Alexander Program
Organ Sonata in G Major

Edward Elgar

1857-1934

Allegro Maestoso
Te Deum

Jeanne Demessieux

1921-1968
Program subject to change at the discretion of the artist(s).
---
Scholar-performer Marya Fancey uses her research to bridge temporal and cultural gaps in music for students and audiences. She received a 2017–2018 Fulbright Student Research Award to Poland for Historical Music Performance. This grant supported her dissertation research on organ masses from the Tablature of Johannes of Lublin (ca. 1540), culminating in a performance of its three mass cycles with vocal ensemble Flores Rosarum at the fifteenth-century Church of the Holy Cross in Krakow. She has presented at meetings of the Historical Keyboard Society of North America and the SE chapter of the American Musicological Society.
Her concert programs frequently incorporate works by underappreciated composers. In 2016 Marya Fancey introduced Polish audiences to the music of Florence Price and David Hurd at the Podlaskie Organ Festival and the 18th International Festival of Organ Music at Pelplin Cathedral. She gave the 2015 world premiere of Passacaglia and Triple Fugue (organ) by Louise Talma. In 2011 she performed Sonata No. 2 (piano) by Grażyna Bacewicz at the 15th Annual Festival of Women Composers (Gainesville, FL).
In studio and classroom teaching she augments the traditional classical canon with lesser-known compositions as well as works from a variety of other musical styles. She has taught music studies courses at UNCG, Guilford College, and the University of Florida. Her past professional activities include apprentice organ builder, church organist and choir director, private music teacher, and assistant music editor.
Marya Fancey holds the DMA degree in Organ Performance from UNC-Greensboro, where she studied with André Lash (organ) and Andrew Willis (harpsichord and fortepiano), with a Post-Master's certificate in Music Theory Pedagogy and a Post-Baccalaureate certificate in Historical Keyboard Performance. Her interest in the scholar-performer model arose from masterclasses with Marie-Claire Alain, Olivier Latry, John Grew, William Porter, Hank Knox, and Edoardo Bellotti at multiple McGill Summer Organ Academies between 2005 and 2015.
John Alexander holds the Bachelor of Arts and Master of Music degrees in Organ Performance from the University of North Carolina Greensboro, where he studied with Robert Burns King. He received the Artist Diploma at the Cleveland Institute of Music where he studied with Todd Wilson. While there, he received the Henry Fusner prize for outstanding achievement in the organ department. John completed his Doctor of Musical Arts in Organ Performance at UNCG in May. While there he studied organ with André Lash, early keyboard performance with Andrew Willis, and choral conducting with Welborn Young. Since completion of his doctoral work, he has continued with some adjunct teaching in the organ studio at UNCG. John currently serves as the Director of Music and Principal Organist at First Presbyterian Church in Greensboro, North Carolina.
John has appeared as a soloist across the Eastern United States in churches including Washington National Cathedral; the Cathedral of St. John the Divine in New York City; the Cathedral of St. Philip in Atlanta, Georgia; the Piccolo Spoleto Festival in Charleston, South Carolina; and with the Eastern Music Festival Orchestra. In 2011, John was invited to premiere a concerto by Robin Dinda as part of the Region IV American Guild of Organists Southeast Regional Convention. His performances can be heard on multiple broadcasts of American Public Radio's 'Pipedreams'. John has appeared as an accompanist with various choral groups for performances at noted venues such as St. George's Chapel, Windsor Castle; Worchester Cathedral; Christ Church Cathedral, Oxford; St. Giles Cathedral; Ely Cathedral; and Duke Chapel.