Thalea Quartet at All Inclusive Life Hatha Yoga Class
Join All Inclusive Life for a Hatha Yoga Class led by Leslie Tello. Thalea String Quartet will provide the live music for this class.
Come to this special event bringing the breath, body and mind to a unified state of relaxation with gentle yoga and the support of chamber music.
Bring a yoga mat and an eye mask if desired.
This is a free and open event. Online Registration is required.
allinclusivelife.org/hathayoga
Greensboro Cultural Arts Center - Studio 413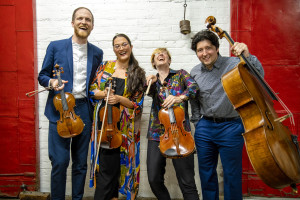 Thalea, String Quartet
Thursday, November 3, 2022 - 7:00 pm
Greensboro Cultural Center
Live Audience Tickets
Tickets are free!
---
Hatha yoga is an ancient branch of yoga where the body is given training through postures (also known as asanas) to achieve health and steadiness. Hatha yoga includes several limbs that support and complement the asanas we all know. The goal of Hatha yoga is to achieve a state of integrated health, and to facilitate the experience of meditation.
The benefits of this practice are noticeable in the body, the mind and our state of awareness. Hatha yoga is a complete practice and when done correctly it can become a sustaining tool for a heathier system, and a deeper appreciation and experience of life.
To learn more about All Inclusive Life's Hatha Yoga, click here: https://allinclusivelife.org/hathayoga/.